National Recreation Trail in Brandywine Hundred
A 10-mile "National Recreation Trail" runs through seven unique State and County Parks in northern Delaware's "Brandywine Hundred" district — from the Brandywine Creek in Wilmington to the Delaware River!
This is the spectacular Northern Delaware Greenway Trail (NDGT). It encompasses over 1,200 acres of preserved natural lands in Brandywine Hundred, has over 29 miles of inter-connected trails and includes an amazing range of amenities for local Brandywine Hundred residents!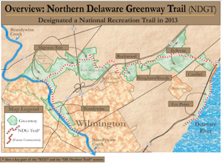 Northern Delaware Greenway Trail: Walk, explore, hike, bike or just relax in Northern Delaware's piedmont area.
To find out more about the NDGT, each park's varied landscape and the many recreational resources along the Trail, go to www.DelawareGreenways.org and click on the "Trails & Pathways" section*. Take the NDGT Website Tour.
Highlights of NDGT & Park Resources:
The 10-mile, paved NDG Trail connects to another 19 miles of trails within each of the seven park's trail network. (The NDG Trail is also part of the "East Coast Greenway" that passes through Delaware.)
Many recreation resources, including: Exercise Track on former horse race course; the Brandywine Zoo; a Public Golf Course & Tennis Courts; Sports Fields; Playgrounds; quiet Natural Areas – and even an Ice Skating Rink.
Wayside Interpretive Kiosks at rest areas along Trail for historic and cultural information.
Over 1,200 acres of protected Greenspace with Picnic areas, Pavilions, and many other amenities throughout the 29-mile, inter-connected trail "network".
__________________
* Quick NDGT website Connection: https://arcg.is/0jGy8e CPS – 6/3/20