Traffic and Area Studies
Identify potential Committee involvement related to the following:
Community reported traffic volume and traffic safety concerns and issues.
Understanding significant current and planned roadway construction (Corridor Studies) and assess potential impact to the affected communities
Understand the impact on traffic due to significant land development projects.
Understand the published traffic statistics such as volume, accidents, and deaths.
Understand significant current and planned traffic safety initiatives, such as adding/removing cameras or increased/decreased police presence, and assess potential impact to the affected communities.
The Roads Committee will focus on roads within the Brandywine Hundred Boundary

Brandywine Hundred is that portion of New Castle County that lies north of the Christina River and east of Brandywine Creek, excepting that portion in the south included in Wilmington Hundred. Its northern boundary follows a portion of the 12 mile arc that boarders PA.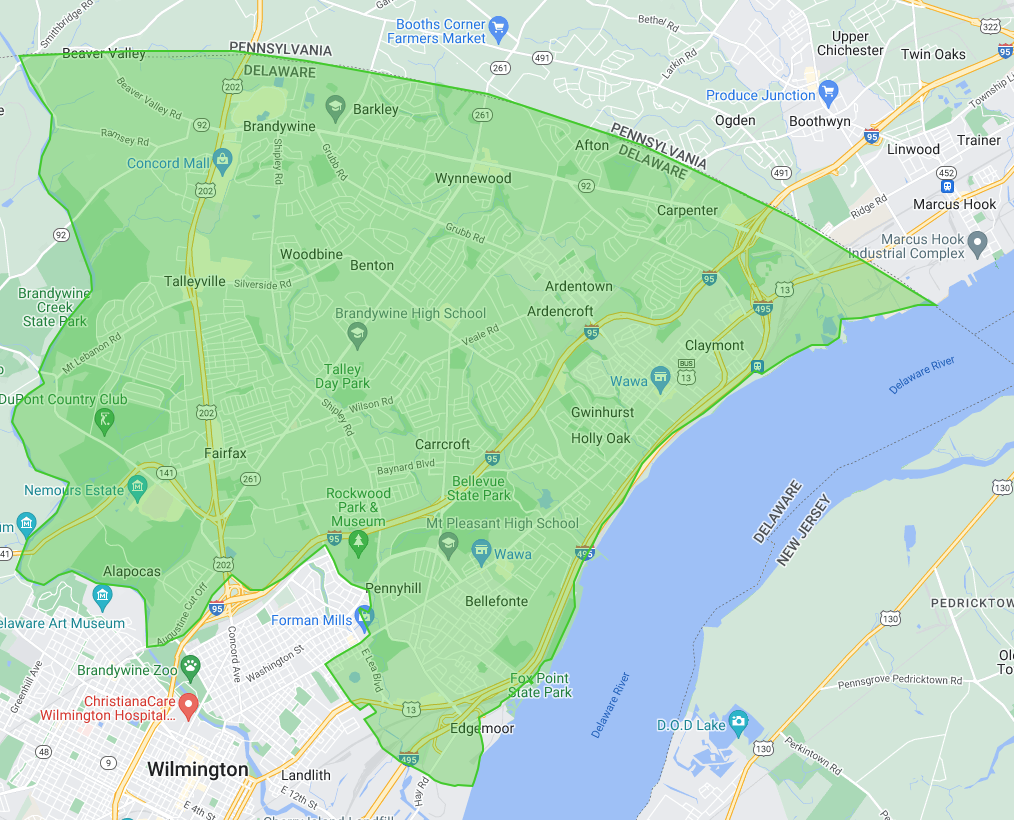 Do you have a serious concern about the traffic or road construction in Brandywine Hundred area?
Email our ROADS COMMITTEE CHAIRPERSON Rick Buckmaster detailing your concerns. We will let you know what CCOBH might be able to do to provide you with assistance in resolving your concerns.
Road Construction Plans in Brandywine Hundred
DelDOT Projects Portal
Planning and Design
First State National Historical Park (NHP) Pedestrian Safety Project with the Federal Lands Access Program (FLAP) grant to improve bike and pedestrian road crossings for the NHP trail system.
Construction Start Date: Spring 2025
Construction End Date: Spring 2022
Rockland Road Roadside Safety Improvements – This project involves the construction of a moment slab with barrier or guardrail with retaining wall along Rockland Road.
Construction Start Date: Summer 2024
Construction End Date: TBD
Stonework for Bridges 1-022 and 1-525
Adding stone masonry and aluminum railings to the existing bridges 1-022 and 1-525. Construction Start Date: Spring 2023
Construction End Date: Fall 2022
Augustine Cut Off Bicycle Network Improvements
This project will explore options for bicycle and pedestrian improvements along Augustine Cut Off that will link the state's two largest population centers, the City of Wilmington and Brandywine Hundred, by connecting the greater Blue Ball/US 202 Pathway system to Trolley Square and the Brandywine Park trail network.
Construction Start Date: Spring 2025
Construction End Date: TBD
Safe Routes to School, Wilmington Montessori
Construction Start Date: Winter 2024
Construction End Date: Winter 2022/2023
Under Construction
US 202 and Naamans Road (SR92) Sidewalk/PAR Improvements
This project consists of sidewalk improvements along US 202 from south of Concord Mall to Brandywine Towne Center filling in missing links and rebuilding to current standards.
Construction Start Date: Summer 2023
Construction End Date: Winter 2021/2022
Safe Routes to School Claymont Elementary Phase 2
Bicycle and Pedestrian Improvements Near Claymont Elementary School
Construction Start Date: Spring 2023
Construction End Date: Spring 2022
Claymont Station
This project will be for the design of a new Claymont commuter rail station integrated with the redevelopment of a former industrial site into an office/commercial complex. The new station will provide full ADA compliance and enhanced passenger facilities.
Construction Start Date: Summer 2029
Construction End Date: Fall 2023
Claymont Station Project Website
–there are no upcoming Public Meetings currently scheduled for this project
Traffic Statistics
DelDOT – Integrated Transportation Management Program
Traffic Counts– this is an interactive map. Click on a section of the road and it provides the last 10 years Average Annual Daily Traffic (AADT)