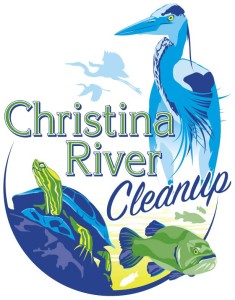 The 2014 Naamans Creek Watershed Cleanup, held annually in connection with the Christina River Watershed Cleanup, pulled out over 1.5 tons of trash from the stream and surroundings.
This trash included car and truck tires, shopping carts, a highway sign, a picnic bench and a TV set. Most of the material was plastic bags and bottles, soda and beer cans and newspaper circulars.
Sixty (60) volunteers cleaned 17 different sites in the watershed. County Councilman John Cartier and State Representative Bryon Short participated in the cleanup.
Almost 700 volunteers participated in the entire 23rd Annual Christina River Watershed Cleanup and eliminated up about 20 tons of trash and recyclables from New Castle County. 1-800-Got Junk once again took care of transporting our trash to the landfill.
Most of the participants enjoyed lunch on the patio of Harry's Savoy Bar and Grill. Food and other materials for the lunch were supplied by Harry's, Nino's Pizza, Sweeney's Bakery, Acme Market, Safeway, Rite Aide and F&N Liquor.
In addition to the trash collection 28 tree whips were planted in the parkland between Naamans Creek and Lancashire. Photographs of the cleanup will be posted here as they become available.